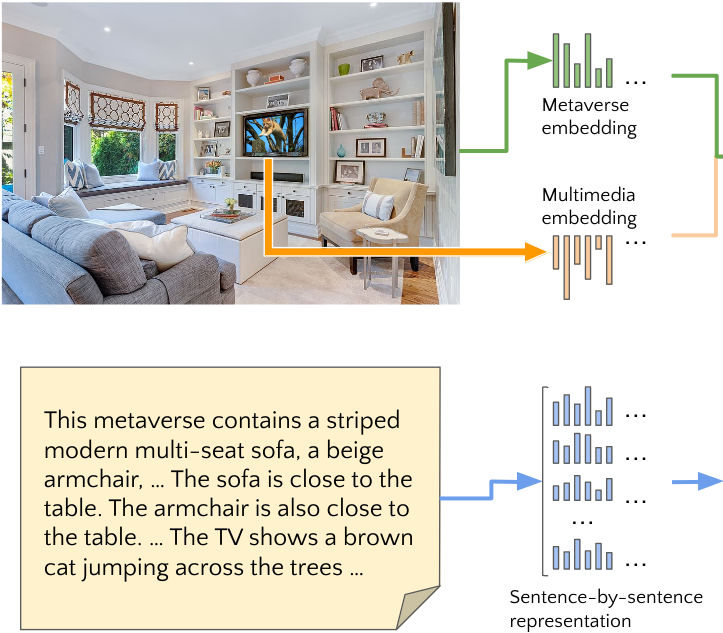 In recent years, the Metaverse has sparked an increasing interest across the globe and is projected to reach a market size of more than $1000B by 2030. This is due to its many potential applications in highly heterogeneous fields, such as entertainment and multimedia consumption, training, and industry. This new technology raises many research challenges since, as opposed to the more traditional scene understanding, metaverse scenarios contain additional multimedia content, such as movies in virtual cinemas and operas in digital theaters, which greatly influence the relevance of the metaverse to a user query. For instance, if a user is looking for Impressionist exhibitions in a virtual museum, only the museums that showcase exhibitions featuring various Impressionist painters should be considered relevant.
We introduce the novel problem of text-to-metaverse retrieval, to support the users in finding the most suitable metaverse according to a given textual query. It is a challenging task, since the multimedia content present in the metaverse greatly influences its relevance to the user query.

Related publications:
Ali Abdari, Alex Falcon, Giuseppe Serra: "Metaverse Retrieval: Finding the Best Metaverse Environment via Language", ACM International Conference on Multimedia – Deep Multimodal Learning for Information Retrieval (ACM MM MMIR), 2023.
Research group:
Ali Abdari (AILAB-Udine Member)
Alex Falcon (AILAB-Udine Member)
Giuseppe Serra (AILAB-Udine Member)